One of the main challenges when approaching Dickinson is navigating the gigantic body of criticism which is out there. My own work on Dickinson has taken me through the different stages where this is crucial – from being a student and postgraduate researcher, to an author and University lecturer. When thinking about writing about or teaching Dickinson, we must first have a sense of what has been written on a chosen topic or particular area of focus, and what the key debates are within these critical approaches.
There are so many different facets to Dickinson's work, each one producing such diverse responses, that this can be a somewhat daunting task in itself. 'Dwelling in possibility' is a wonderful directive for poetic creation, and this dominant Dickinsonian mode is perhaps one of the reasons why her poetry has been the inspiration for so much highly engaged and varied critical commentary since its initial publication. Since 2013, Harvard's open-access website to the manuscripts (http://edickinson.org/) has allowed an even greater freedom for scholars and critics to engage creatively with her work in the twenty-first century. However, Dickinsonian 'possibility' isn't entirely helpful when needing to position readings of her work. Locating critical trends and understanding why and how they are situated within this vast critical body requires focus. For the purposes of this guide, this body needed to be pinned down!
This guide to essential criticism on The Poetry of Emily Dickinson aims, therefore, to be necessarily selective in its approach in representing essential criticism from the past several decades, whilst also drawing upon material from the earliest nineteenth-century reviews of Dickinson's poems through to current research, to provide a critical lens and picture of where critical texts on Dickinson sit in relation to one another. The book suggests key starting points by providing overviews of the criticism and critical approaches that have shaped Dickinson studies and influenced the ways in which we view particular aspects of Dickinson and her life. It covers crucial areas such as biographies and publication, style and meaning, the female tradition, gender and sexuality, history, Civil War, race, religion and hymn culture, performance, popular culture, digital Dickinson, translation and international reception.
Looking back at the history of Dickinson's critical reception, at where we have been, and by being selective in this way, allows for greater clarity to understand where we are going. For example, critical interest in the way Dickinson is read, and the way our readings are shaped by our understanding of what a poem is and how it is presented, can be traced from essays which examine the issue of Dickinson's style being perceived by early critics as a lack of poetic skill and misunderstanding of punctuation and grammar; the issue of her 'self-publication' (sewing pages of poems together into packets or 'fascicles'); her practice of writing on scraps of paper and specifically on the backs of envelopes (the 'envelope poems'); to the current digital age, where we can access her work online in a variety of ways and interact with blogs and tweets. The Emily Dickinson Bot (@emilydicknsnbot) on Twitter, which posts regular excerpts from Dickinson's poems and intimate letters to Susan Huntington Gilbert Dickinson, currently has a following of 47.1K. The Apple TV series Dickinson (2019-2021) Watch Dickinson | Apple TV+ (UK) has done much to generate interest in Dickinson as an LGBTQ+ icon. However, the impact of queer theory in Dickinson studies in the '90s can also be felt in the current critical interest in her work as voicing LGBTQ+ identities; homoerotic, lesbian, gay, bisexual, trans, queer and gender non-binary identities, and in the numerous ways that Dickinson's poetry destabilizes the gendered body. Further, looking at the various ways earlier critics sought to describe Dickinson's engagements with race, the language of abolition, and to underline the Civil War contexts to her work are useful for foregrounding our understanding of Dickinson and race, and the politics of Dickinson's representation of race, in the twenty-first century.
As a literary explorer, Dickinson's poetry is both thrilling and difficult – not just in the way her referents require much decoding from us as readers (the chapter on style and meaning examines critical reception of her various literary techniques) – but also because what is written about her is always changing, and the critical parameters always shifting. As such, the guide does not aim to present new directions in Dickinson studies as a collection of essays might, but in addition to offering key critical moments in the history of Dickinson's reception it also describes emergent strands of research by including some newer, and less well-known critical texts. I felt it was important to incorporate those areas of research which are yet to take up their place within the Dickinson critical canon, foregrounded by key examples from the history of Dickinson's reception in this book.
This guide is a user-friendly reference tool for quickly accessing the debates and topics which have been important in shaping Dickinson's critical corpus, and hopefully provides the student and reader of Dickinson with a sense of where these selected critical texts can be placed in relation to one another, providing the 'bigger picture' of Dickinson criticism at a glance. It will also provide an understanding of some of the major moments within the history of Dickinson's reception from late nineteenth-century reviews up to important twenty-first century critical interventions. Selecting material from the critical corpus for inclusion in this guide was perhaps the most challenging aspect of writing it. The chosen material, together with the detailed bibliography (and multiple excisions), will hopefully allow readers greater freedom to choose where they would like their reading of Dickinson to take them.
---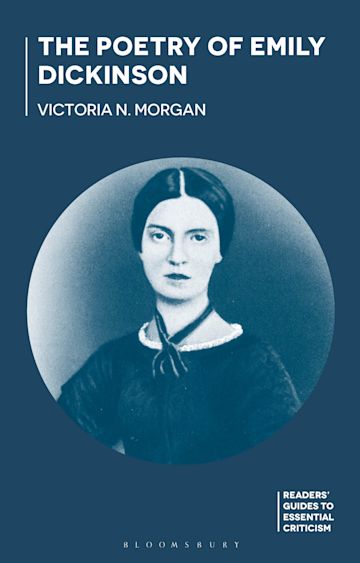 Victoria N. Morgan, author of The Poetry of Emily Dickinson, is an expert in Dickinson and nineteenth-century literature. She is also author of Emily Dickinson and Hymn Culture and she has taught at the Universities of Liverpool and East Anglia, UK.